Experience at Da Dia Beach House
Đá Đĩa Beach House - A gem in the heart of a fishing village
It feels like we have burnt all of our enthusiasm and love to build Đá Đĩa Beach House. It is not just a second home of ours but this gem is having a desire to bring its guests the most comfortable feeling during their stay.
The attraction of Đá Đĩa Beach House does not only lies in its construction structure, but also comes from the one-of-a-kind beauty that nature has bestowed on this land. Furthermore, the pristine area with unexplored landscapes and the peacefulness of a typical fishing village will bring unique and unforgettable experience to your stay.
Đá Đĩa Beach House is built inside Gành Đá Đĩa fishing village, a traditional fishing village with back to back generations making their living from the sea. In the old days, most villagers scuba dived to catch fish.
In the past decade, most of them have gradually switched to lobster farming with most farming cages located in Đầm Môn (Vân Phong Bay) or Xuân Đài Bay. During the oceanic season (from the third to the ninth of the lunar year), some people in Phú Hạnh village bring their lobster cages back to Gành Đá Đĩa to have easier commute and care for their farms. Imagine such scene in front of Đá Đĩa Beach House, when the calm sea contrasts with the bustling scene of lobster cages and the fishermen, along with villagers catching seafood right at the front yard beach.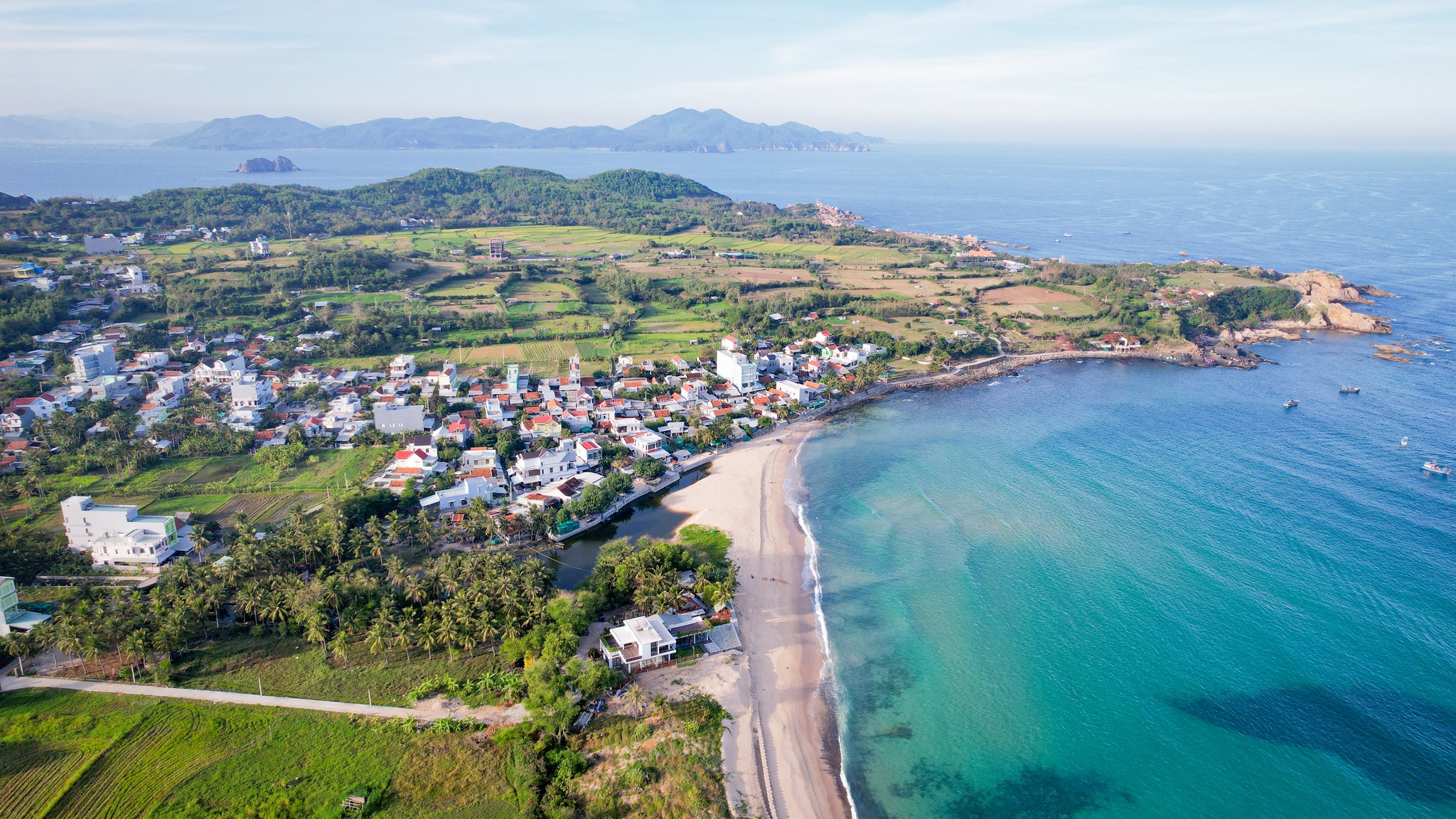 Despite its location in the heart of a fishing village, Đá Đĩa Beach House still maintains its own peace thanks to the private entrance and venue, with a long and beautiful beach at the back of the house. According to Google Map, the beach is marked as "Biển Gành Đá Đĩa", but the villagers often use the name "Biển Bãi Bàng" due to numerous of Indian almond trees (called cây bàng by locals) on this beach in the old days.
It is not bragging when declaring that Biển Bãi Bàng is a "private" beach of Đá Đĩa Beach House, as very few tourists have discovered this beach (in contrast with the busy Gành Đá Đĩa nearby). Locals often swim in early morning and leave the beach when the sun just starts rising above the surface. The afternoon sees more children who mainly swim near the residential area of Phú Hạnh village (village 6). That means Biển Bãi Bàng is quiet most of the time.
It is a beach with eternal blue of the water, secluded and surrounded by the famous Gành Đá Đĩa and the peak of Phú Lương mountain. The peaceful vibe can relate us to the sweet lyrics and music not of Miley Cyrus' Malibu hit song.
"We watched the sun go down as we were walking
I'd spend the rest of my life just standing here talking
You would explain the current, as I just smile
Hoping I just stay the same and nothing will change…"
Let's find out the unique experience at Đá Đĩa Beach House?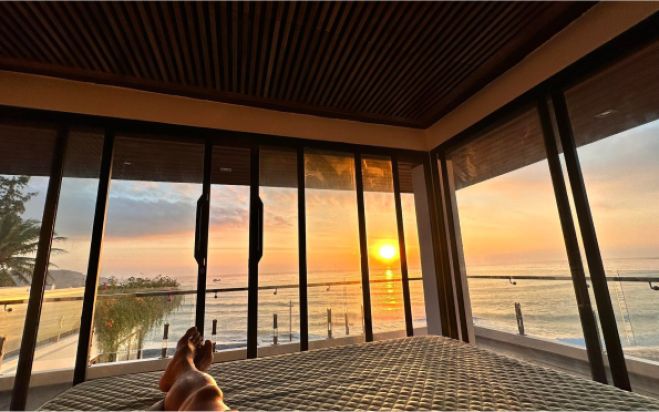 Rare infinity swimming pool with salt water in Vietnam.
A pristine and peaceful beach right at the back of the house, making it easy for swimming, playing beach games such as Kayak or SUP.
Watch the sunrise from your bed
Enjoy the view of the national treasure Gành Đá Đĩa and the wonderful beach from the Beach House.
Close to many famous landmarks such as Gành Đá Đĩa (2km by road, 500m by sea), Gành Đèn Lighthouse (2.6km), Ông Cọp Wooden Bridge (10km), Mằng Lăng Church (10km), Ô Loan Lagoon (11km), Cù Lao Mái Nhà Beach (14km), Yến Island (20km), Xép Beach (25km).
Taste not only seafood that has just come out from the water but also other fresh and traditional dishes such as chicken with é leaf, beef half-dried under the sun, pork gut with rice pancakes, etc. All are at surprisingly cheap prices.
Enjoy a peaceful and pristine fishing village where you can experience local's daily work such as catching sea snails, picking seaweed, catching sea urchins, fishing right outside of the house. Discover the unique tradition of stone arranging culture in the ancient stone village of Phú Hạnh.
Experience a fully equipped and modern facility at the Beach House. You can also immerse in green spaces and blooming flowers inside the house. We always try our best to provide you the wonderful experience upon your stay at Đá Đĩa Beach House.
Let's explore and experience the exclusive unique experience at Đá Đĩa Beach House!
Relax & Explore at Home
It is not a strange decision when people must choose "relaxation" or "explore" during their trips. At Đá Đĩa Beach House, you will experience a 2-in-1 option thanks to its unique location.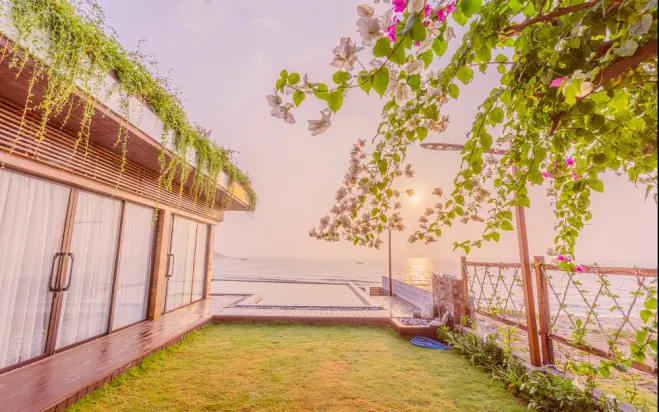 A little corner at the Beach House
Life at the fishing village
Staying at our House, you can have a full experience of a fisherman life. Everything starts before the sun shows itself above the sea and ends when we barely feel the sunligh warmth on our skin.
Therefore, if you want to grab the freshest food, set an early alarm to join the morning markets which often sell fresh seafood from the night fishing Such food can be bought at markets of village 6, village 7 (Cây bàng market), village 5 (Đầm market). If you are more picky, take a trip to the beach at village 7 or go further to Phước Đồng village (Cù Lao Mái Nhà beach) to buy seafood from the fishing boats that have just returned. Please be mindful that to enjoy these beach markets, you have to get up very early and leave the house before the sun has risen.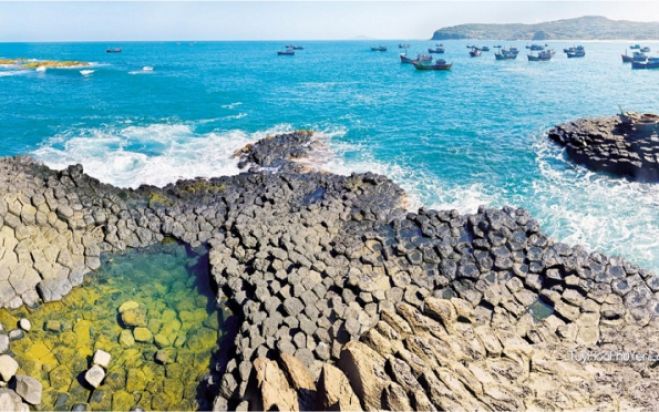 You can also buy snails caught from Gành Đá Đĩa from the divers in the mornings and afternoons, or buy fresh fish from the seafood wharf in village 7 (near Hong Cat Petrol station) every evening. The return time of the boats is not fixed, from 18:00 to 21:00.
Except for the busy time in early morning, life at the fishing village is quite peaceful after that when a large number of villagers visit their offshore cages such as Đầm Môn or Xuân Đài Bay to feed the lobsters. It's the right time to spend with your loved ones at Đá Đĩa Beach House or explore the surrounding area.
Funs near the House
Gành Đá Đĩa is in a clear sight of people staying at Đá Đĩa Beach House. You can get there by going along the beach, or through its main gate. We recommend to access via the main gate for 2 reasons: Firstly, the entrance fee is only 20,000 VND and it contributes to the local budget. Second and more importantly, take the first left from the entrance, you can go along the trail to Gành (instead of taking the shuttle bus on the main road). This is the best route to enjoy Gành Đá Đĩa at its fullest. This is an easy-to-be-missed experience, especially with tourist exploring on the pre-booked tours.
Next to Gành Đá Đĩa is Gành Đèn Lighthouse . To many young people, this is the most beautiful place for check-in photos in Phu Yen. A little further are other famous tourist sites such as Mằng Lăng church - one of the oldest churches in Vietnam;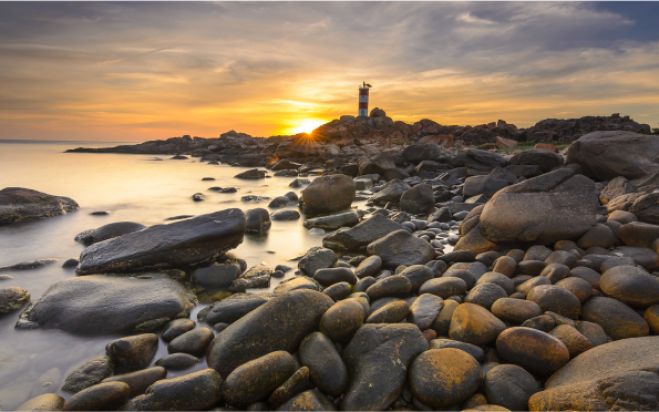 Cù Lao Mái Nhà , a pristine island with an interesting natural "swimming pool" (please contact the staff for recommendation on travel services to this island);
Ông Cọp wooden bridge is famous for being the longest wooden bridge in Vietnam; Nhất Tự Sơn is a unique sea route from the mainland to the island;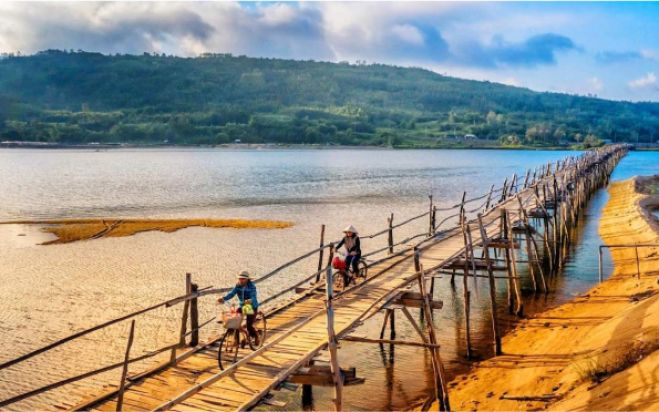 Ô Loan lagoon is known for the tale of Lady Loan and O bird. It is also loved thanks to the famous seafood dishes such as blood cockles, fresh oysters etc. Yến island, on the other side, shows its beautiful coral reefs whenever the water recedes; Bãi Xép, the shooting scene of the famous "Tôi thấy hoa vàng trên cỏ xanh" (I see yellow flowers on green grass) movie, etc. Those are all famous tourist attractions with lots of online travel guide. It is easy to plan your trip and visit all of them in only 1-2 days.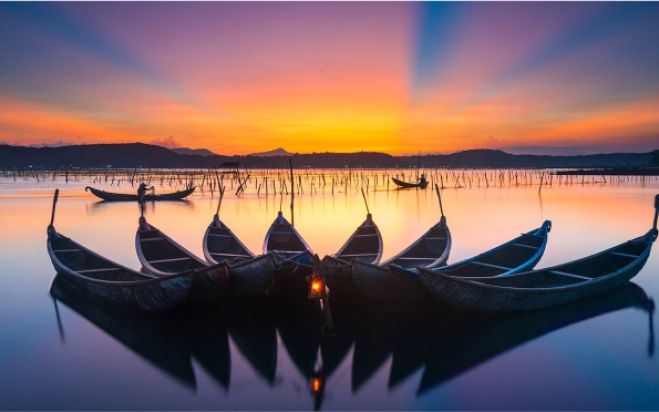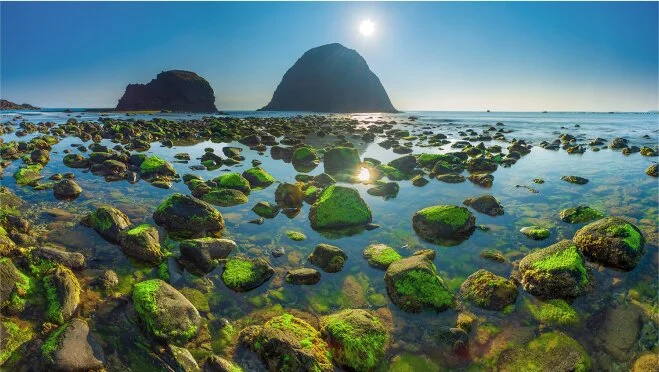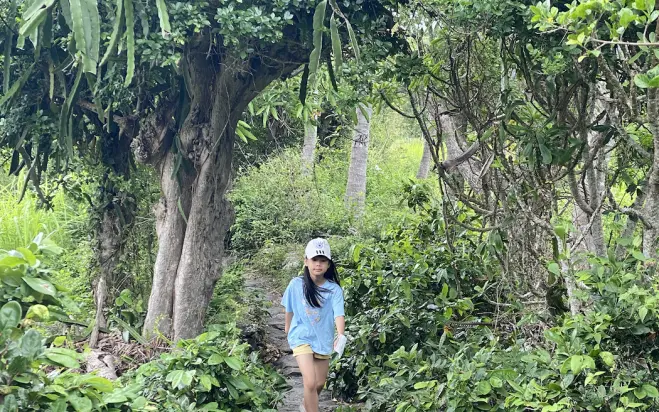 Explore Phú Hạnh Ancient Stone Village, not far from our House
However, if you don't want to have to spend too much time on the road, besides the iconic Gành Đá Đĩa and Gành Đèn Lighthouse, You can also explore some beautiful scenes just outside of the House, one of which is Phú Hạnh Ancient Stone Village. With only a few minutes walk, you can explore the rustic scene of the road, houses, wells, borders, which are arranged ingeniously by different sizes of stones.
Not far from Phú Hạnh Ancient Stone Village (village 6) is the beautiful top of Phú Lương Mountain (village 7). On the top of this mountain, you can catch the scenes of Gành Đá Đĩa, Gành Đèn Lighthouse, Ô Loan Lagoon and Xuân Đài Bay.
Also from this location, you can watch sunrise and sunset. This is an ideal spot to capture beautiful photos of the sea embracing the mountains at sunrise, sunset or any time of day. The scene can be compared to the famous Instagram check-in spot of Bãi Xép.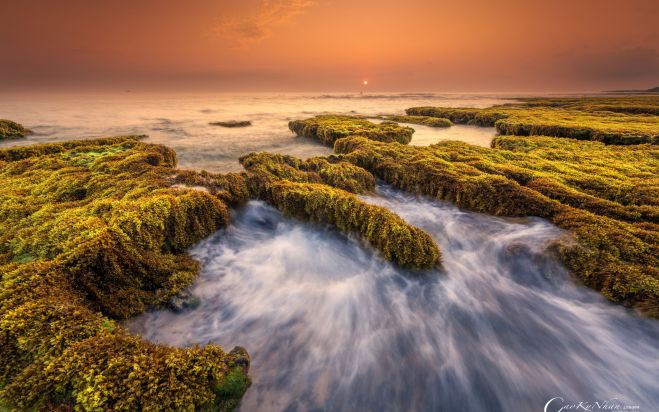 Right at the foot of Phú Lương mountain is a spectacular cliff reaching out to the sea. From the second to the third month of the lunar calendar, moss grows on the rocky reefs, creating a "green carpet" on the sea. This is also a favorite place of photographers who are looking for impressive photos, especially at dawn when the first rays of the sun are scattered in golden color, blending in with green moss and the waves.
Depending on the season, you can also experience the life of a true fisherman while staying with us. In addition to catching snails near Gành Đá Đĩa or casting nets and fishing along the coast, during the urchin season (last months of summer), you can catch sea urchins right at the foot of Phú Lương mountain, on the side of village 7. To catch the urchin, you need to get yourself metal tongs, a long steel rod with a hook to pull the urchin out of the cave, and finally a plastic bucket. If lucky, you can host a small party with your "harvest". However, be aware of the sea urchin's spines as being pricked by them is not a comfort feeling. Prick from sea urchin spines can cause infection. To prevent this, you must remove all the pieces of the spines.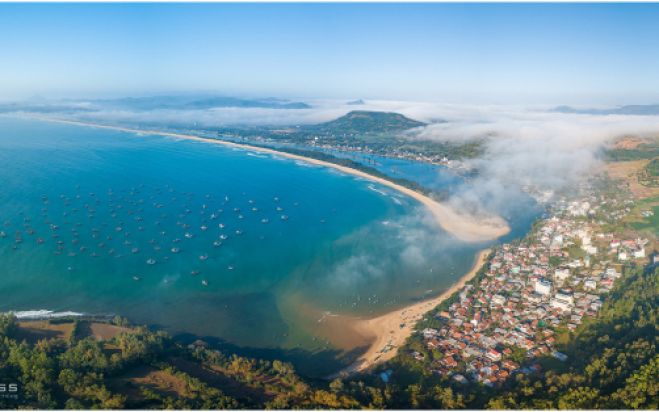 Also at the foot of Phú Lương mountain, from the eleventh to the first month of the lunar calendar, you can join the easy activity of picking seaweed. Just go out on the calm days of the sea, look for seaweed in the water at the foot of the mountain. Using your bare hands, you can collect the wonderful gift from the sea to create fresh, crispy and nutritious soup bowls.
Eating around
Phú Yên's cuisine is very diverse and yummy. As the land at the farthest point of the mainland of Vietnam, seafood in Phú Yên is often salty and tastier than other regions. Tuna and tuna eyes are known as a "must try" dish. In addition, Ô Loan lagoon is also a famous place to enjoy seafood with the famous blood cockles and oysters.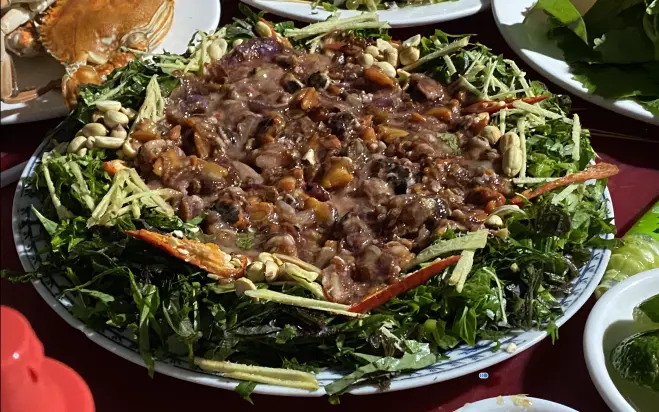 The most recommended for food quality and service is the floating restaurants in Ô Loan Lagoon, next to An Hải bridge, about 8km away from the House. Quán Tuấn is known for the chef's delicious dishes with fresh food and fast serving. When at Quán Tuấn, besides fresh seafood, do not forget to try the slow cooked grouper served in a pot. Many people has rated this as the most excellent dish of the restaurant.
Most floating restaurants serve two dishes that are rarely found on anywhere else in Vietnam: oyster blood soup and blood cockle soup. For those who want to experience blood cockle soup, Kim Thoa restaurant is the right choice.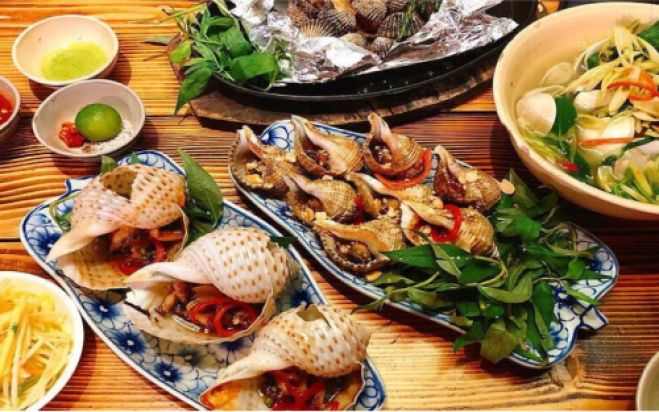 One reminder for travelers is the floating restaurants at An Hai bridge mostly serve tourists and have their busy hours around lunch time. Therefore, the price is also a bit expensive compared to the income of locals but affordable to people from big cities.
If you don't want to go too far, you can also choose restaurants near the House. Right next to Gành Đá Đĩa is Mười Xí restaurant with a beautiful view (at noon) to Gành Đá Đĩa and the romantic sea. The restaurant serves a variety of dishes. Besides seafood, the chicken is also excellent, including grilled chicken or chicken hot pot with é and giang leaves. It is important to remind that the chicken and é leaf hot pot originated from Phú Yên, not Đà Lạt as people often believe. Therefore, do not forget to enjoy this dish in its hometown.
Another must-try dish at Mười Xí is "all kind of snails". The fresh snails are caught right at the foot of Gành Đá Đĩa. If you're lucky, at around 4pm every day, you can buy snails directly from the villagers and ask the restaurant to help with cooking (steam).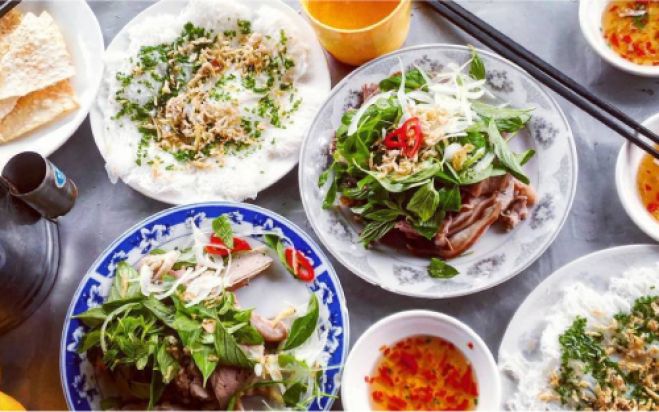 In addition to Mười Xí restaurant, Bẻo Seafood which is 300 meters away from the House, is also another good option. You can order seafood dishes, popular rice dishes and enjoy the food under the coconut canopy, looking to the white sand beach and the blue sea. Along Phú Hạnh Street down to the main gate of Gành Đá Đĩa, there are also many other restaurant such as Cường, Vũ Khoan, Đa Đa, Thu Thảo etc. with the iconic seafood of chicken and é leaf hotpot.
In case if you feel enough with seafood, Chín Pha restaurant on Xuân Điện street (on the way to Mằng Lăng church) can bring you countryside dishes such as frogs, birds, eels, fish. Pigeon blood soup or husk fish cooked with hay are two of the "must try" dishes here. However, you have to wait a while for food to be served here as they are all cooked upon your order. In return, you will enjoy fresh dishes at very cheap prices!
Another option with a more modern taste is Cà Pháo restaurant. This is also a favorite dine-in of young people in the region, with a Thai cooking style using local ingredients. Spicy, acrid food or excellent fried rice dishes will bring you a lovely dinner at an affordable price.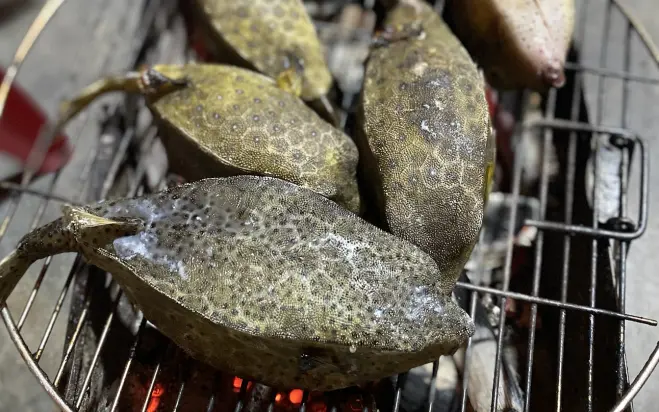 Grilled seafood (depending on the season) are very popular in the fishing village
Besides the above restaurants, basically, the area around the House does not have too many options for a luxurious meal. Most of the restaurants here have a rustic style, including the floating ones on An Hải bridge. Food often has sweet flavor, but not too much, so it is considered easy to eat, especially for young children.
There is one thing in common for restaurants here, it is the cheap price. A portion of bánh hỏi and pig intestine for breakfast only costs VND 20,000 (less than USD 1). It includes one plate of pig intestine, one plate of bánh hỏi, and one bowl of porridge. A seafood noodle soup with vegetables, or full topping beef vermicelli costs only VND 20,000. Breakfast bread is VND 10,000. Coffee at the roadside shops is only VND 7,000 per cup with a free teapot. With only VND 60,000 (less than USD 3), two people can slowly enjoy a full breakfast with coffee.
Notes when staying at Đá Đĩa Beach House
Gành Đá Đĩa fishing village is still a pristine and peaceful place. Tourists often choose this as a stop on their way, mostly to see Gành Đá Đĩa and Gành Đèn Lighthouse. Very few people stay or go to the village to explore. Therefore, the service here is not as developed as other tourist destinations.
But that brings tourists a rustic, peaceful and pure feeling from an authentic fishing village. The villagers are very kind and hospitable. So, don't be shy to ask them for directions, restaurants, etc. or other help when needed.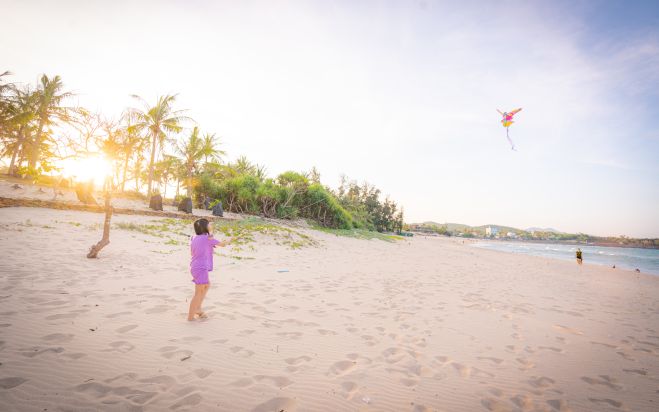 Going into the sea in a strange place, we should also be prepared to protect ourselves and loved ones. That's why we would like to note a few important points:
No smoking and banned substances: To ensure a fresh and clean space at the House, we apply no smoking and no vapes rules in all of our rooms, including the kitchen and living room. We are not encourage smoking in other areas of the House. Banned substances are strictly forbidden.
Security camera: The house has 4 security cameras, 1. Towards the main gate area; 2. Facing the backyard, swimming pool and sea. 3. Head to the kitchen and living room. 4. Head to the main gate and parking area. All 4 cameras are directed to common areas, serving the purpose of ensuring the security of the House, without affecting the privacy of guests. Hoping for your understanding.
Noise: Local people here live according to the hour of the sun, so after 21:00 here can be considered "late night". Making loud noises after this time frame should be limited for the sake of peace here as well as for other guests staying at the House.
Outsourced services: Motorbike, SUP, grill... and some other items are provided and charged (in addition to the booking fee). Please contact reception in advance if you want to rent and use to be best prepared.
Catering: In addition to the breakfast in buffet style, the House has a kitchen and provides all the necessary basic cooking tools so that guests can prepare their own breakfast, lunch and dinner. If you don't want to cook, you can ask the staff to order food from restaurants to dine at the House or hire a personal chef. For the latter, please inform the receptionist as soon as possible. You may need to pay an additional fee for chef and services.
Offshore currents (RIP currents): Any beach can have RIP currents. As this area is located between Gành Đá Đĩa and the top of Phú Lương mountain, it is easier to spot the RIP currents. Villagers often share their tips to travelers: "choose an area with the waves". If you see a water area as flat as a mirror, be careful as the RIP currents may hide there. In case you are taken by a RIP current, do not try to swim in. Instead, try to float with the water and reach to the sides of the current to escape and swim back. Note: Always put life jackets on children when going swimming.
Jellyfish: If you are stung by jellyfish, use table sugar or tea grounds to rub on the wound to stop the itch immediately.
Sea snail: Sea snails are delicious but also a challenge to those with sensitive stomachs. Ask the seller carefully what parts should and should not be eaten.
Market: Due to living by the sunlight, the village market usually starts early and ends early. If you want to choose the freshest food, try to get to the market as soon as possible.
Transportation: Motorcycle is the best choice when traveling around the House. If you want to explore by bicycle, brace yourself for the steep hilly terrain around. If you want to travel by car, please contact the front desk for assistance.
Bring your love: We have spent our heart and soul to build Đá Đĩa Beach House and hope it will be a destination that brings you and your loved ones the most comfort and convenient experience. Therefore, we also wants to receive love from you. Any feedbacks to make the House better, please send it to the front desk or email: [email protected].
Related Posts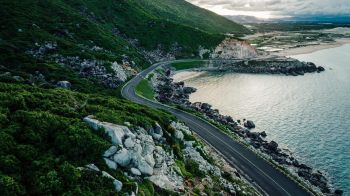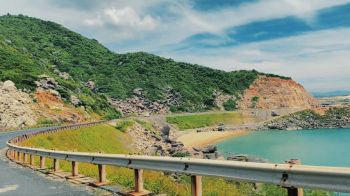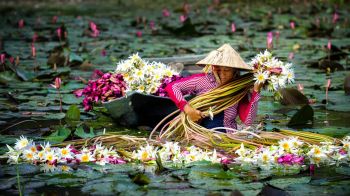 Savoring Coastal Elegance: Culinary Treasures of Bau Sung in Phu Yen
Immerse yourself in the coastal charm of Phu Yen's Bau Sung, where water lilies frame a menu of exquisite local delicacies, a true coastal culinary adventure awaits.