Ong Cop Wooden Bridge is a special bridge spanning the Phu Ngan River with a length of nearly 800m in Phu Yen. In this article, I will share with you the experience of discovering and having beautiful checkin photos at this place.
What's special about Ong Cop Wooden Bridge?
Ong Cop wooden bridge was first built in 1998 with a total investment cost of more than 1 billion VND. In early 1999, Ong Cop wooden bridge was officially put into use, since then it has been managed by many households.
Ong Cop Wooden Bridge holds the record as the longest wooden bridge in Vietnam, has long been considered one of the must-see check-in points for visitors when coming to the land of yellow flowers and green grass. Although it is just a simple bridge, but thanks to being located in the middle of a beautiful space sobbing people, Go Ong Cop Bridge makes many visitors' hearts cannot help but admire.
Bridge materials are planks from casuarina and eucalyptus trees that are connected to solid old bamboo trunks. The bridge is designed exclusively for bicycles, pedestrians and motorbikes, so it is convenient for visitors to comfortably take pictures and enjoy the river view.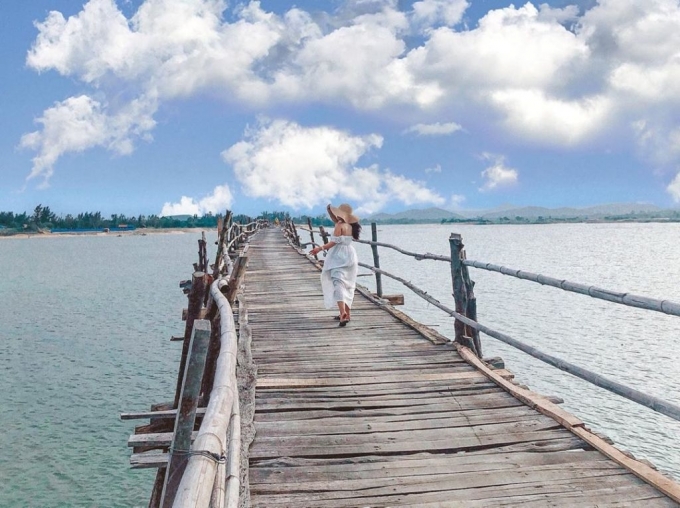 Where is Mr. Cop Wooden Bridge?
Ong Cop Wooden Bridge crosses the Phu Ngan River, connecting two communes of An Ninh Tay, Tuy Hoa district with Xuan Dai ward, Song Cau town, Phu Yen province. The bridge is about 800 m long and 1.5 m wide. Ong Cop Wood Bridge in Phu Yen is holding the record as the longest wooden bridge in Vietnam.
From Highway 1A, you go to the sea for more than 100m and you will meet Ong Cop Bridge. From a distance, the bridge becomes small in the vast sea.
What's so beautiful about Ong Cop Wooden Bridge?
Maybe when you visit the bridge, you will feel extremely regretful if one day this bridge will be lost. Because it is difficult to find a place where you can see firsthand the whole idyllic life of the people here.
Standing on the bridge, you will see very dear images, women riding bicycles to the market every day on the bridge or children playing together to swim in the river. All of these images are very simple and strangely cute.
The best time to go to Ong Cop Wooden Bridge.
If you want to visit Ong Cop wooden bridge, the most suitable time is in the dry season, that is, from early January to September every year. At this time, the sky is clear, it rarely rains, the water surface is calm, so it is very suitable for visiting.
From about October to November every year is the flood season, because of its simple structure, the bridge is easily washed away by floods.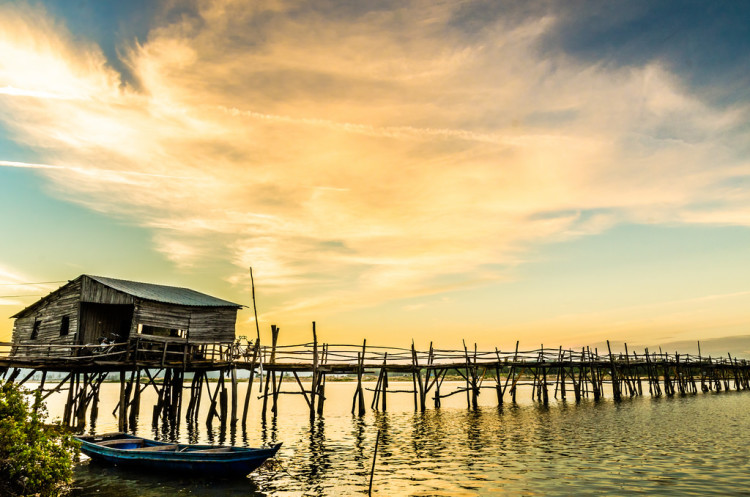 Directions to Ong Cop Wooden Bridge.
Ong Cop Wooden Bridge is located about 35 km from Tuy Hoa city. Starting from the city center, you will move along Le Duan street, when you come to Petrolimex gas station number 17B, you turn right and continue to run to An Hoa bridge, go straight along National Highway 1A there will be signposts to An Hoa bridge. Mr. Cop Wooden Bridge.
In addition, you can also move to Ong Cop Go Bridge from Song Cau town. Although this route is longer, it is very quiet and easy to go, the scenery on both sides of the road is extremely beautiful.
Means of transportation to Ong Cop Wooden Bridge.
You can travel by different means to get to Ong Cop Wooden Bridge. In particular, motorbikes are the means of choice for many young people to explore. Therefore, recently, a motorbike rental service has been developed to support tourists in the process of moving in Phu Yen.
The price of motorbike rental usually ranges from 100.00 VND - 150,000 VND / vehicle / day depending on the type of vehicle, and the time you rent is on holidays, weekends or weekdays.
Besides motorbikes, taking a taxi is also a means of choice for tourists when coming to explore Go Ong Cop Bridge because this is a very suitable vehicle for large groups and also very safe.
How much does Ong Cop Wooden Bridge charge?
Ong Cop Wooden Bridge is designed exclusively for pedestrians, bicycles, and motorbikes. On the bridgehead in Xuan Dai ward, there is a small wooden house managed by a household to collect tolls across the bridge. For each turn, in addition to students getting free, pedestrians pay 1k/time, two-wheelers pay 3k/way, carrying additional goods is 5k/turn.
Tips when checking in Ong Cop Go Bridge.
Taking pictures at this longest wooden bridge in Vietnam is great. But to get the best frames, come here at dawn or dusk. When the sun is still shining on the water in the distance, when you stand on the bridge, it is as if you are lost in a magical space with attractive blue water.