Ganh Da Dia is a magnificent landscape created by stones of all shapes stacked on top of each other or built into columns. What is the most beautiful time of the year to go to Ganh Da Dia? Please refer to the experience in the following article.
Where is Ganh Da Dia?
Ganh Da Dia Phu Yen is located in An Ninh Dong commune, Tuy An district, about 35km north of Tuy Hoa city center.
Where is Ganh Da Dia Phu Yen?
Ghenh Da Dia, also known as Ghenh Da Dia, is a famous tourist attraction of An Ninh Dong commune, Tuy An district, about 35km north of Tuy Hoa city center. With stone blocks up to 200 million years old with thousands of stone columns of many shapes such as round, square, rectangular, stacked very accurately and beautifully. It would be a pity if you went to Phu Yen but did not have the opportunity to visit this place.
With unspoiled natural beauty and unique structure, this is considered a great masterpiece of stone that nature has bestowed on this land and has become a precious gem of Phu Yen tourism industry.
What is beautiful about Ganh Da Dia in Phu Yen?
The beauty of Ganh Da Dia in Phu Yen can be said to be a miraculous masterpiece of nature. The rock here is basalt that was formed 200 million years ago, thanks to volcanic activity in the Van Hoa plateau. The hot lava flows erupting from the volcano when meeting cold water are suddenly frozen, combined with the phenomenon of stress transfer, causing these lava blocks to crack into many dimensions, creating stone slabs with high density. strangely beautiful shape, mysterious as it is now. In addition, there are tens of thousands of square, hexagonal, or circular stone columns, stacked stone layers connected, consecutive and close together like an arrangement from the hand of some god.
Other visitting spot at Phu Yen Ong cop wooden bridge
Over millions of years, affected by the waves coming from the sea, the stone pillars here have not broken or separated but kept clinging to each other, playing with the sea. You will be attracted at first sight by the unique shaped rocks. Ganh Da Dia also impresses you by the colors that are constantly changing during the day due to the sunlight reflected. sunshine at the beginning of the day. But when sunset falls, the red rays of the afternoon sun dye the rocks pink. Therefore, every moment at Da Dia rapids will bring you to enjoy different levels of emotions. And it will be great if you can put your feet on each stone and feel the coolness under your feet when the waves of the sea crash against the cliffs, throwing white foam.
From a distance, Ganh Da Dia looks very much like a giant honeycomb, standing out in the middle of the clear blue sea, adding more magic to it. You will see that there are places where the rocks are arranged high and straight, but there are places where the rocks are stretched, the layer is tilted like a stack of dishes, maybe that's why the name Ganh Da Dia was born?
How much does it cost to visit Ganh Da Dia Phu Yen 2023?
Sightseeing Tickets.
Ticket prices are applied at Ganh Da Dia specifically as follows: Adults: 20k/pax/turn; Children: 10k/pax/turn. There is also a ticket price for tram: 5k/pax/way.
Business hours.
Opening hours for visitors at Ganh Da Dia from 8:00 to 18:30 on weekdays, including public holidays and New Year.
Directions to Ganh Da Dia Phu Yen.
You can easily travel by plane to Tuy Hoa airport or buy a train ticket to Tuy Hoa station conveniently and quickly.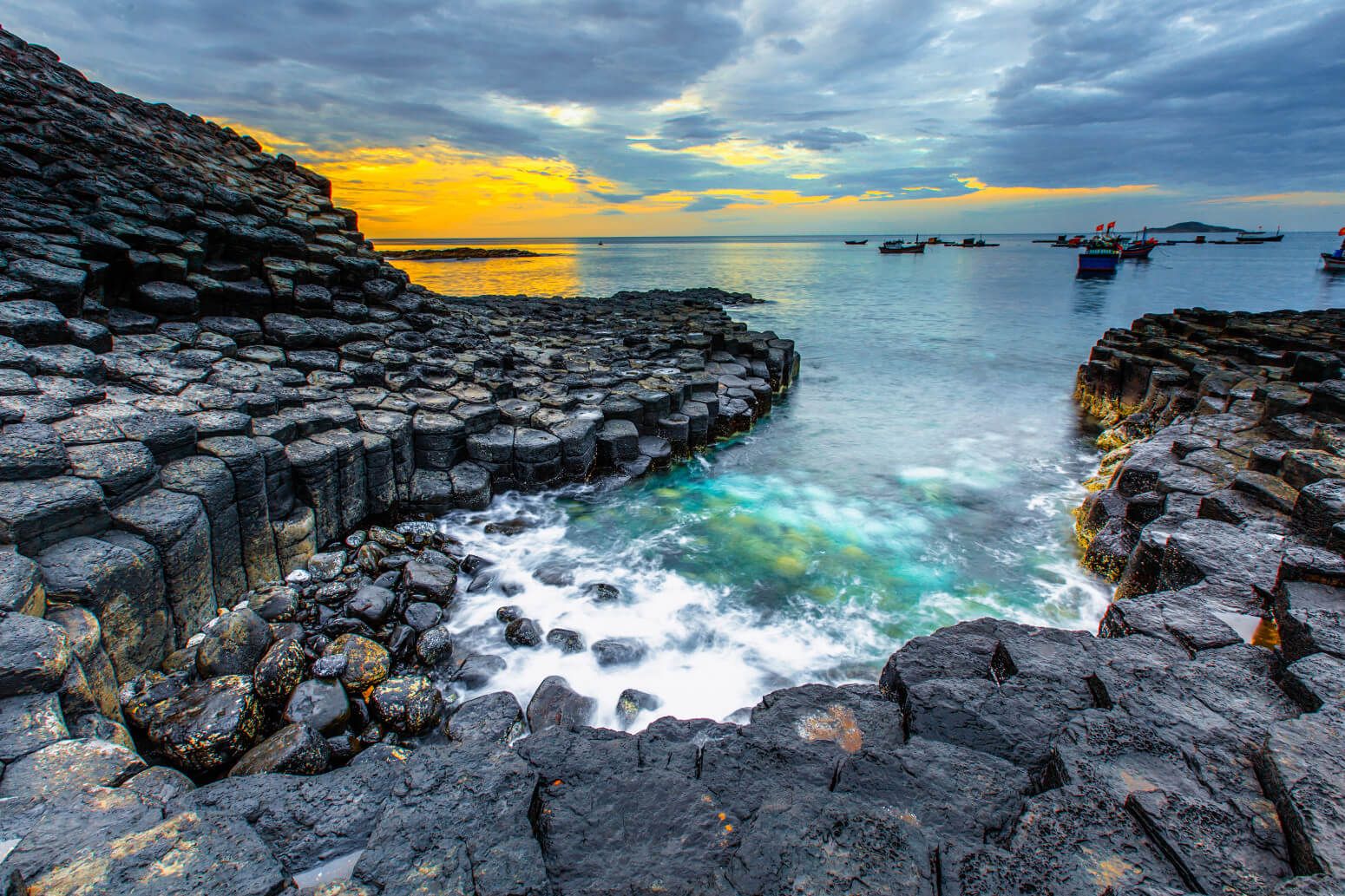 The best time to go to Ganh Da Dia.
Ganh Da Dia - Phu Yen is located in the central region but is less affected by sea storms, this place has an extremely temperate climate, but there are days when storms can occur. You can avoid the rainy seasons, storms, September and October to have a safer and more complete trip!
Directions to Ganh Da Dia Phu Yen.
Starting from the center of Tuy Hoa city, you run along National Highway 1A to the north for about 30km, when you reach Chi Thanh town, you turn right to the east about 12km to reach Ganh. Or if you want to see the sea and dreamy mountain ranges, you can choose to follow the coastal road from Tuy Hoa to the rapids with a distance of more than 35km.
Note when traveling to Ganh Da Dia Phu Yen.
You should avoid the stormy seasons in September and October. There will be sudden rains that will make your experience here less interesting.
To avoid getting lost when traveling to Ganh Da Dia, you can use the Google Maps navigation application, type in the keyword "Ganh Da Dia, Phu Yen", then click directions and intended means of transportation. Find the route that's right for you!
You should bring the necessary items such as: Hat, sunscreen, clothes and camera to be able to capture great moments and photos here!
In addition, you can bring drinking water, food or some other personal items to be able to experience a picnic, visit Ganh Da Dia with your family and loved ones.
Delicious food at Ganh Da Dia.
You can enjoy fresh seafood dishes from the sea such as ocean tuna, O Loan blood cockle, jellyfish salad, squid vermicelli, lobster, Cu Mong lagoon crab, etc., which are extremely delicious in Bai Bang right there.
Fish Oh.
People also call the O fish "surprised fish". I don't know who named this fish, it's really "surprise", it sounds both strange and fun. O fish belongs to the tuna family, blue back with white belly, round body with smooth skin, the largest one is only the size of an adult biceps, up to 50cm long.
O fish can be processed into many different dishes, from simple to sophisticated and has a very distinctive flavor, perhaps that's why O fish is so memorable right from the first time you enjoy it.
Plum Fish Salad.
Mai fish is similar to anchovies but a bit larger in width, clear meat, especially not fishy, so it is often used as a salad. The apricot fish salad is both delicious, strange and attractive, so when you enjoy it, it will be hard to forget. Mai fish can be used as both a wet salad and a dry salad. However, dry salad is the most popular, because this is a favorite dish of Phu Yen people, but it is also a favorite dish of people in the central coastal provinces.
Mai's fish salad is very simple to make, but for the dish to be perfect, the chef must choose fresh fish with smooth white skin. Mai fish used to make salad is usually only half the size of a little finger.
Mai's fish salad is indispensable for a plate of raw vegetables: green cabbage, lettuce, a few slices of thinly sliced banana mixed well... Pick up a little salad and a few raw vegetables to put in the middle of a thin rice paper, roll it up. Dipped in the dipping sauce, you will feel the typical taste of the dish, in addition to the sweetness of the fish, the mild salty taste of the dipping sauce, the sour taste of lemon, the spicy taste of chili, the crunchy taste of peanuts. roast. Add a clove of garlic or a hot red pepper, the more you eat it, the more addictive it is, the more you want to use it.
Noodles with Squid.
Phu Yen squid vermicelli uses small squid rice, sweet meat and not too long. The preparation of this dish is divided into several short steps. The first is the broth using tomatoes and pineapple boiled until the water is fresh and has a beautiful color. Next, add the squid to cook, but do not overcook so as not to lose the fresh taste of the squid, this pot of broth will season with spices and green onions to suit, rich.
Squid noodles are not too demanding on ingredients. Squid used to cook vermicelli is usually small, not big squid. If cooked with large squid, the dish will be less delicious and sweet.
Phu Yen squid vermicelli noodles cook very quickly, it only takes a few minutes to be eaten. To feel the delicious taste, you should eat it right after cooking, the squid is guaranteed to be soft and crispy, not chewy, the broth is warm, the aroma is overwhelming, eating a bowl will remember forever.
Chives cake.
Phu Yen shallot soup cake is a popular but popular dish. Not only is it a light dish for breakfast, but it also helps you to awaken the taste buds in a subtle way by the cool broth made from fish.
A delicious bowl of shallot soup must first have a very sweet bone broth, then add chewy fish cakes, quail eggs, especially a lot of chopped chives. The noodles are made from rice flour, but in some places, filtered flour is used to make banh chung.
Phu Yen shallot soup cake is always in the top of the must-try dishes when you come to the land of Nau. The price is very affordable, so it is loved by many tourists. So, when going to Phu Yen, don't forget about the extremely delicious shallot soup stalls here!
Homestay, hotel in Ganh Da Dia.
The peaceful land of Nau is really peaceful compared to neighboring tourist cities, and the prices of motels and hotels here are also extremely affordable. You only need to spend a few hundred thousand to have a luxury motel or hotel with a very good sea view.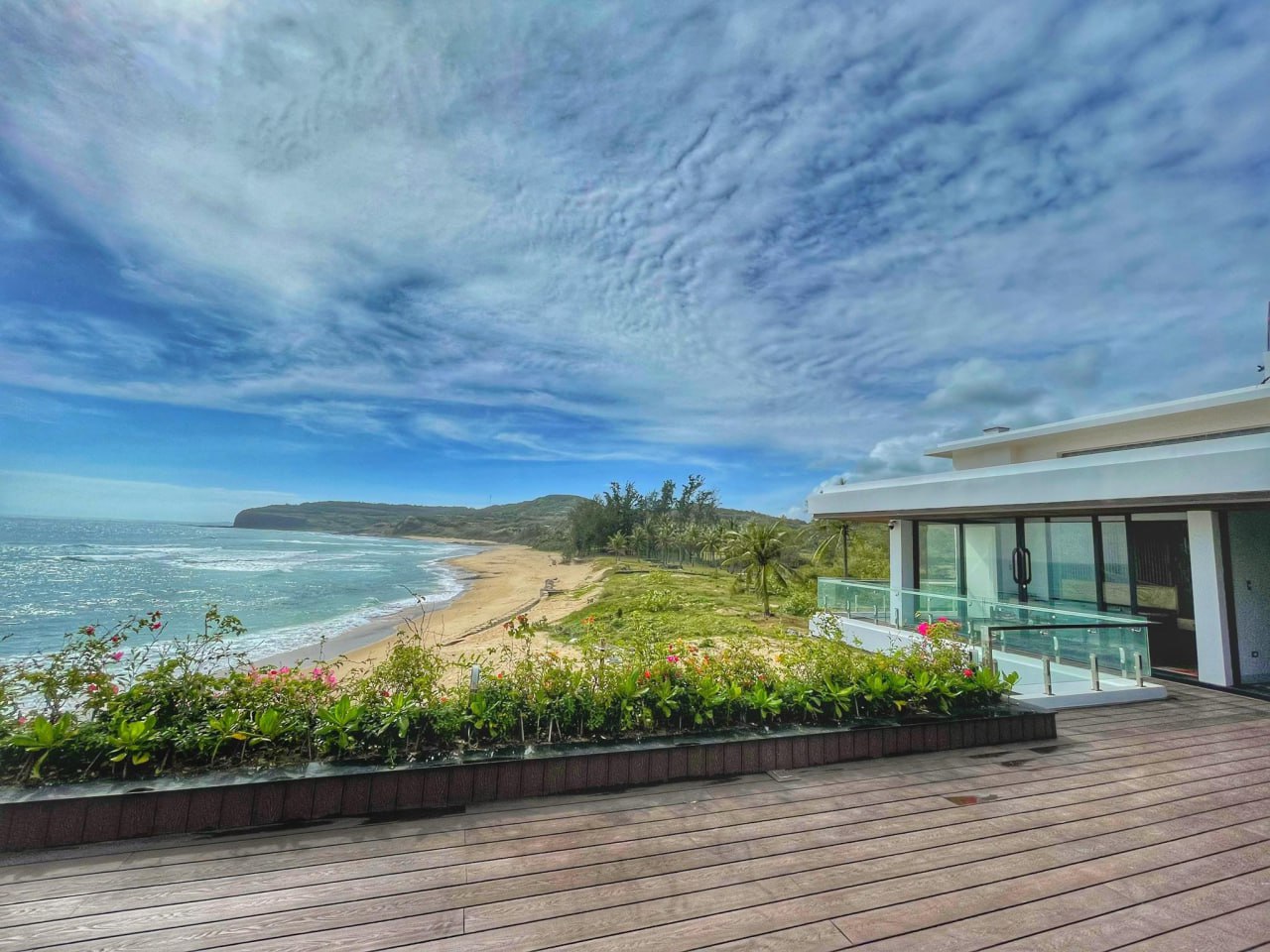 Homstay in Ganh Da Dia.
- Da Dia Beach House
Address: Ganh Da Dia, Ninh Dong, Tuy An, Phu Yen
Hotline: 0372267879
Email: [email protected]